Here is a sampling of comments from past wedding, corporate, slide transfer, and event clients:

BRAVO TO Artistic Memories Video Productions!!!
Hello from Rodney and Jann, hope everyone is getting along OK. We obviously received the wedding video and

are thoroughly impressed! We can't thank you guys enough for capturing "the day" for us. It is great to have a record of practically everything that happened. As Jann said in her interview, we can't think of anything added to it that could make it better - just like the wedding day. Just let us know if you need a reference!
Again, we sincerely appreciate the time and effort that you both put into the video. We will always cherish it.
Rodney, Jann and "Baby Bob"

Dear Janet & Dan,
It was so much more than we expected, it's GREAT!! Thank you so very much!
Watching it was very emotional for us. For me especially. The butterflies came back, along with the tears. I felt as if it was May 18th all over again. It means so much to us that you've done this for us! A thousand thank you's!!
Again, thank you so very much!!
Kelly & Roger

Dear Dan & Janet,
We can't begin to thank you enough for the incredible job you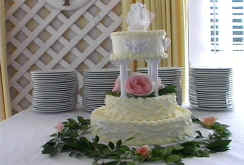 did in making our wedding video! You put such a special touch to it starting with the personal interview that was conducted with us a few weeks before the wedding.
The professionalism, quality and thoughtfulness that went into the video is so obvious to us and to so many of our family and friends who have seen the video.
We are so happy to have such wonderful memories of our special day that will be with us, our children and grandchildren.
We have told so many of our friends about your company. We will continue to highly recommend your services as we believe your company is the best choice for a quality video!
Ronald & Chris

Dear Dan & Janet Smith,
We just can't say enough how much we appreciate the work you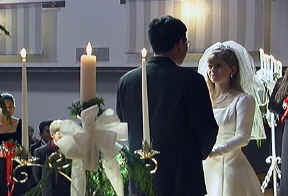 have put into the wedding video. This is the seventh week we've had it and we've already watched it ten times! Every time friends and family come over we bring it out and show the video to them. The video is definitely a family treasure. Though we paid great attention to everything during the ceremony, the video captured so many things that we missed. We will surely preserve the video so our children can see our wedding.
We love the many features you've added to the video. The close-ups of our families showed us how much we mean to them. The music selections were great, and the Love Story feature was very beautiful. We also appreciate the time you spent interviewing people who mean so much to us.
Once again, thank you, and God bless you!
David and Jennifer

Dear Dan:
I wanted to take a moment and thank you for the wonderful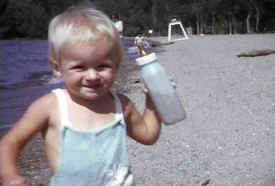 video you did for my parents. My sisters and I couldn't wait to give it to them for Christmas. I wish you could have seen my mother's face when she realized what was on the video.
We watched the video together, as a family, on Christmas Day and there wasn't a dry eye in the room. Over the Christmas weekend I caught my mother watching the video a total of four times! Both of my parents were so happy with the video, and my sisters and I are very pleased with the results.
You did a great job and paid so much attention to detail that the result is a beautiful walk down memory lane for all of us.
Thank you for a perfect present!
Sincerely,
Karen

It was perfect! We especially loved the way you perfectly captured the feeling of the old church building, which was so special to us!
Anjelica & Jim

The video really is FANTASTIC! Many, many thanks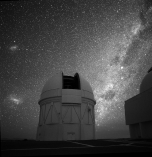 to the two of you for such a great job! We've practically worn it out showing it off to folks. It's priceless for us both for content and quality!
Betty and Victor

THANKS for the wedding video!!!! It's great. I'm sure it will be on continuous run at the Fitzpatrick family ranch. I especially like the intro piece we filmed on the day of the rehearsal. Super idea!!!
Marcela & Ed

Cindy and I would like to express our satisfaction with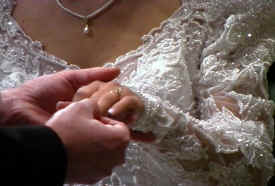 the exceptional job you did with our wedding video. Everyone who has seen the video has been impressed with your skill and taste. We especially liked the little things you picked up on during the wedding and reception. We also enjoyed the slow motion, stills, and double exposures. We feel these effects added a lot to our video. In conclusion, we would recommend your services to anyone we know.
Cindy and Mike

Dear Dan & Janet,
We really wanted to thank you so much for the incredible job you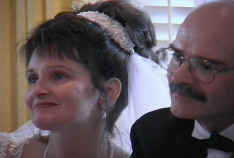 did with our wedding video.
We can't begin to express to you how special our video is to us. Thank you for all the time you spent with us before, during, and after our wedding to make our wedding video so special.
Thank you for your professionalism and quality work - they mean so much to us. We were glad you were the ones who made our video and have given us such precious memories.
Thank you again for everything.
Ron & Chris