Preserve and Share Your Memories
As Seen on NBC on
The Jane Pauley Show!
I'm much more comfortable behind the camera rather than in front of it, but nevertheless the producers of the Jane Pauley Show wanted me to come to New Your City to talk about the problem of all the film that needs to be transferred to DVD, and the benefits of adding the Family Audio (see below) to help future generations understand who's on the film. (I admire those people who can get up in front of a camera with millions of people and think nothing of it
Click on the picture to see a clip of my appearance on the NBC show: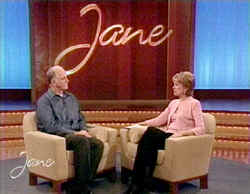 We can create a treasured video by transferring your old home movies (8mm or Super8, silent or with sound, and/or 16mm) to video. And we can add music of your choice to help set the mood.
We've converted film for people all over the States, and are located in Charlottesville in central Virginia.
We have the best equipment and experience to create just what you want. All digitizing, transfers and editing are fully digital, giving you clear, bright images.
We perform any contrast and color correction needed, so the final video usually comes out better than the original film looked! Portions that might appear too dark on the projected image to identify details stand out much better once digitized and corrected. We can even get still pictures from your home movies to make prints or put on your computer!
An often overlooked additional benefit of preserving your home movies on video is to make a "backup". Give copies to your friends and/or family and your memories are preserved even if there is water or other damage to the original film.
Don't forget that your original movies are deteriorating over time. Have you noticed the colors changing or the entire image fading? Convert them to video now, before it's too late and they are lost forever!
A Unique Offering By Us to Really Make Your Memories Last Generations - Add Your Own Family Audio!
We don't know of anyone offering this option, but it makes your memories even more treasured by future generations. We can transfer your movies to DVD (or VHS) as we normally would, but not add any music. We will then make you a special "intermediate" copy.
When you and your family can next get together, bring out your camcorder and set it in the middle of the room. Get all the family around, and just talk amongst yourselves as you normally would. The camcorder captures all the comments about "There's Johnny at the reunion in 1962 when he..." and narrates the action.
You can then bring us the camcorder tape and we can merge the audio from it with the original movie video. The video from the new camcorder tape is only used to allow us to exactly synchronize the new audio with the movie footage. Then we make your final DVDs and/or VHS copies.
As the years go by, we've found that some families treasure this audio commentary almost as much as the movies themselves!
See a Sample Converted Video
We include a video clip to give you an idea of how it turns out, but we do want to emphasize that the quality you see depends on your computer, monitor, and Web connection speed. Also, note that even with the best system and connection, the quality will be considerably inferior to a DVD.
(For the best quality, or if the clip does not play correctly, upgrade to

)
Windows Media Player 9 8mm Movie Sample (highest quality)
Medium Quality Dial Up (lowest quality)
Make a Tribute Video to Show at Birthday or Anniversary Party
Transfer old home movies, possibly along with some special photos, to make a tribute video for your parent's birthday or anniversary party. We can show the video for you at the party if you like on our giant nine-foot screen. Guaranteed to make them laugh and cry, and remember the party forever!
Please see some comments from a few of our past customers.
Please email or call 1 (434) 9video1 or 1 (434) 984-3361 for prices and to discuss possible options for your video!