Additional Possibilities to Make Your Wedding Day and Video Memorable
After choosing the Wedding Video Package that exactly matches what you would like, here are some additional options to customize your video even more!
Show your special video at your rehearsal dinner or reception on our giant nine-foot screen. Guaranteed to cause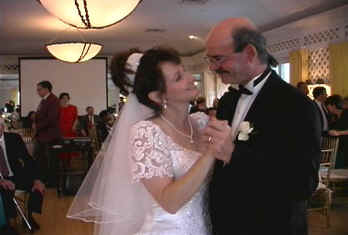 some laughs and tears, it is also guaranteed to create a lasting memory with everyone who attends. Many clients use it as the cornerstone of their rehearsal dinner or reception!
You'll be amazed by the emotional impact of viewing your special video with all your special family and friends on our huge screen!
(For the best quality, or if the clip does not play correctly, upgrade to

)
Here is an excerpt from the end of a Growing Up/Courtship Montage with Ceremony Footage Added (and a bit of the reception!) followed by some reaction shots...
Windows Media Player 9 Golf Cart Reactions (highest quality)
Medium Quality Dial Up (lowest quality)
Here's another...
Windows Media Player 9 Big Screen Reactions (highest quality)
Medium Quality Dial Up (lowest quality)
And another. Note that this is as it was actually shown at the reception, complete with ceremony footage...
Windows Media Player 9 Vineyard (highest quality)
Medium Quality Dial Up (lowest quality)
(For the best quality, or if the clip does not play correctly, upgrade to

)
If your ceremony is in the UVa chapel and some of your speakers are soft spoken, they may be hard for all guests to hear. The chapel has no sound system at all. We can provide a 200 watt powered amplifier, attached to our microphones.
Or if your ceremony and/or reception is being held outdoors you would benefit from our amplifier.
This is your own personal music video. We can capture what it "feels" like to be in love. You can see examples of Love Stories we have already done, and help come up with ideas for what represents your feelings.
If you've ever listened to a song or seen a music video that you felt matched the way you feel about each other, we can create a treasure for now and always, preserving that feeling for you, your friends, and your children!
Here is part of a sample Love Story we did for a great couple, obviously in love...
Windows Media Player 9 Love Story (highest quality)
Medium Quality Dial Up (lowest quality)
(For the best quality, or if the clip does not play correctly, upgrade to

)
Also, see WEVA's discussion of Love Stories.
We work with you to come up with an idea to convey your relationship using humor instead of straight romantic emotion. Ideas vary greatly, but if you think the typical Love Story is too "mushy", let's talk about a Spoof!
Together we'll come up with a tongue-in-cheek story-line that reflects your style and weave it into your wedding video.
Each package includes a number of pictures for the growing-up or honeymoon montage, set to music of your choice. A relatively unique feature of our montages is the option of using pans and zooms on your pictures, as seen on documentaries on TV. This added motion can be used to direct the viewer to particular areas of interest, to show additional details in the original picture, and to add interest to the video. We can show you samples of various montages using different techniques and transitions (dissolves versus special flying effects and everything in between). You choose what you like.
Additional pictures may be added to the selected package for a nominal fee. You should count on about eight to eleven pictures per minute, depending on the pictures and transitions you choose.
Additional Coverage on Your Wedding Day
Each package includes a number of hours of coverage on your wedding day. This often starts an hour or two before the ceremony, so we can get shots of the ceremony location and preparations, plus the bride as she gets ready.
Additional time may be requested for a nominal fee. This fee includes not only the time for two videographers at the reception, but also the time to edit your additional footage into a cohesive film. This editing time is normally much more than the time needed to get the original footage!
Additional Copies of Your Finished Video
Each package includes a number of copies of your finished video, delivered in a customized case. Additional copies may be ordered for a nominal fee.
Still Photos From Your Finished Video
Stills from your video will not replace those taken by a professional photographer, but they can certainly help supplement them! Since video is made up of 30 individual pictures per second, we can select the perfect picture to reflect the moment. And while your professional photographs are often posed, getting the "obligatory" wedding photos, those taken from your video are normally candid - as the events really happened. Since the resolution of video is defined to be 720 by 540 pixels, the print size should normally be up to 5 x 7.
We can show you a selection of shots taken from the video when you come to preview or pick up your final edited masterpiece!
All the photos on this Web Site are taken directly from the video, so you'll see many examples!
Please email or call 1 (434) 9video1 or 1 (434) 984-3361 for prices and package customization options